i.MX6 S/D/Q - AXEL LITE
Processor: NXP/Freescale i.MX6
AXEL LITE is the new top-class Single - Dual - Quad Core ARM Cortex-A9 CPU module by DAVE Embedded Systems, based on the recent NXP/Freescale i.MX6 application processor. Thanks to AXEL LITE, customers have the chance to save time and resources by using a compact solution that permits to reach scalable performances that perfectly fits the application requirements avoiding complexities on the carrier board.
The use of this processor enables extensive system-level differentiation of new applications in many industry fields, where high-performance and extremely compact form factor (67,5 mm x 45 mm) are key factors. Smarter system designs are made possible, following the trends in functionalities and interfaces of the new, state-of-the-art embedded products. AXEL LITE offers great computational power, thanks to the rich set of peripherals, the Scalable ARM Cortex-A9 together with a large set of high-speed I/Os.
AXEL LITE enables designers to create smart products with the best quality/price ratio.
Unmatched performances thanks to Single/Dual/Quad Core @ 1.2 GHz
All memories you need on-board
Boot from NOR for safe applications
Enabling massive computing applications thanks to wide range DDR3 RAM memory up to 2GB (For 4GB support please contact sales department)
Reduced carrier complexity: dual CAN, USB, Ethernet GB and native 3.3V I/O
Marketing Documentation
AXEL LITE Leaflet
AXEL LITE Block Diagram
Block Diagram

Hardware Documentation
Electrical Schematics
AXEL LITE Hardware Manual
Reset Block Diagram
AXEL LITE Electrical pinout
Mechanical Documentation
SOM Mechanical Layout
AXEL LITE 2D Mechanical Drawing (DXF format)
AXEL LITE 3D Mechanical Drawing (STEP format)
Carrier Board design
Evaluation Board Electrical Schematics
General carrier board design guidelines
AXEL LITE specific integration guidelines
Thermal & Power Management
Thermal management guidelines
Power consumption benchmarks
Power management guidelines
SOM power block diagram
Evaluation Kit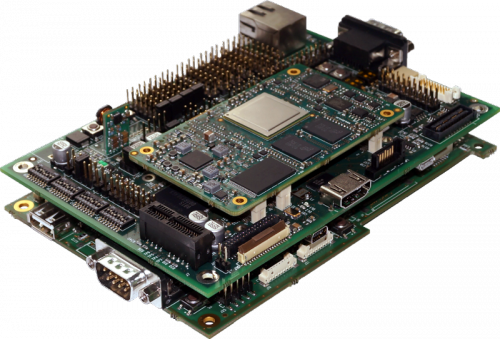 AXEL Evaluation Kit XELK-L-S is a carrier board designed to host AXEL Lite SoM. It is composed by 3 different HW layers:
DACU Host Board
AXEL EVB Lite middle Board
AXEL Lite adapter
See below the HW documentation related to this evaluation kit:
DACU Host Board HW documentation
AXEL EVB Lite middle board HW documentation
AXEL Lite adapter HW documentation
Regarding the SW documentation. AXEL Lite has a unique SW development kit called XELK. Below some useful links to documentation:
AXEL Lite SW development Kit documentation
AXEL Lite Quick Start Guide documentation
Wiki developers guide for AXEL Lite
For RFQ please contact sales@dave.eu or fill the form
 The Evaluation Kit is also available for sales on Digikey and Mouser.  You can also get some samples of AXEL LITE SoM on Mouser
Case Histories
CASE HISTORY: Embedded system design for LASER technology therapy
CASE HISTORY: Embedded technology in a ECG device
CASE HISTORY: Video computing integration on a medical device
CASE HISTORY: Medical Imaging in EYE diseases diagnostic
 CASE HISTORY: A complete embedded device solution design: a professional oven case history
 CASE HISTORY: The typical GUI design and development: the vending machine case history
 CASE HISTORY: Customized wall mount tablet with Android OS
 CASE HISTORY: Parallel dual screen display video for car lighting
Application Notes
XELK-AN-004: Getting Started With QT Creator
XELK-AN-005: Qt5 application remoted using VNC server
XELK-AN-006: Modify u-boot environment from userspace
XELK-AN-007: Migrating u-boot to SPL
XELK-AN-008: How to use systemd on an Embedded system
XELK-AN-009: Comparing JVMs (Java Virtual Machines) on i.MX6 family processors
XELK-AN-002: Using USB Ethernet adapter instead of native MAC controller
XELK-AN-003: Package Management with Yocto
XELK-AN-001: Asymmetric Multiprocessing (AMP) on Axel – Linux + FreeRTOS
Technical Notes
XELK-TN-001: Using Chromium browser as an Embedded GUI
SBCX-TN-002: Running Microsoft Azure IoT Edge runtime
SBCX-TN-006: Characterizing the RAM bandwidth of Axel Lite SoM
SBCX-TN-003: Deploying modules to Azure IoT Edge-enabled SBCX with Visual Studio Code
SBCX-TN-004: Running Armbian Buster (Debian 10)
SBCX-TN-005: Using TensorFlow to implement a Deep Learning image classifier based on Azure Custom Vision-generated model
SBCX-TN-001: Android Things and SPI bus
SBCX-TN-007: Enabling node.js and electron.js for creating Javascript applications
Hardware Maintenance - LONG TERM SUPPORT:
DAVE Embedded Systems is committed to maintain the product until the CPU is available. In case of any othe component obsolescence DAVE Embedded Systems should handle the EOL phase out through standard PCB process reguleted by JEDEC regulation)
In this particular case: https://www.nxp.com/products/product-information/product-longevity:PRDCT...
Software Updates - LONG TERM SUPPORT:
DAVE Embedded Systems is committed to provide updated software along the life cycles of its products. This is possible maintaining products aligned with Silicon Vendor releases. Additionally to this the bug fixes are committed and published on GIT server. More information on how to have access to this are available HERE
Traceability
Bar code labels policy in DAVE Embedded Systems
QR code labels
System On Module HW and SW version mechanism for safe update on field
Certifications
DAVE Embedded Systems certifications available certifications:
ISO 13485
ISO 9001
REACH regulation
RoHS regulation
Conflict Mineral
Origin Declaration