i.MX6 S/D/Q - AXEL LITE
Processor: NXP/Freescale i.MX6
AXEL LITE is the new top-class Single - Dual - Quad Core ARM Cortex-A9 CPU module by DAVE Embedded Systems, based on the recent NXP/Freescale i.MX6 application processor. Thanks to AXEL LITE, customers have the chance to save time and resources by using a compact solution that permits to reach scalable performances that perfectly fits the application requirements avoiding complexities on the carrier board.
The use of this processor enables extensive system-level differentiation of new applications in many industry fields, where high-performance and extremely compact form factor (67,5 mm x 45 mm) are key factors. Smarter system designs are made possible, following the trends in functionalities and interfaces of the new, state-of-the-art embedded products. AXEL LITE offers great computational power, thanks to the rich set of peripherals, the Scalable ARM Cortex-A9 together with a large set of high-speed I/Os.
AXEL LITE enables designers to create smart products with the best quality/price ratio.
Unmatched performances thanks to Single/Dual/Quad Core @ 1.2 GHz
All memories you need on-board
Boot from NOR for safe applications
Enabling massive computing applications thanks to wide range DDR3 RAM memory up to 2GB (For 4GB support please contact sales department)
Reduced carrier complexity: dual CAN, USB, Ethernet GB and native 3.3V I/O
Marketing Documentation
XELK-L-S: AXEL LITE Evaluation Kit
AXEL Evaluation Kit XELK-L-S is a carrier board designed to host AXEL LITE SoM. The Software Development Kit is unique for AXEL ULTRA / AXEL ESATTA and AXEL LITE SoMs. It is a development/test system designed to start working with the AXEL ULTRA / AXEL ESATTA and AXEL LITE platforms and experimenting with the implemented features.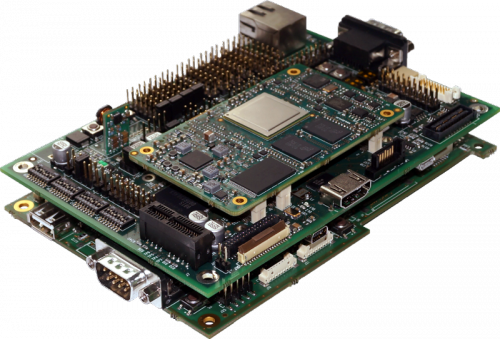 Price and availability
 The Evaluation Kit is available for sales on Digikey and Mouser
You can also get some samples of AXEL LITE SoM on Mouser
Kit Contents
AXEL Embedded Linux Kit is composed of:
AxelEVB-Lite Carrier Board
AXEL LITE SOM
Serial cable adapter for connect to system console +
PINSTRIP 5 x 2 x 2,54 mm to DB9 connector
U-Boot bootloader (source code and binaries)
Linux operating system (source code and binaries)
DVDK virtual machine with pre-installed development environment
ull AXEL documentation (Manuals, User's Guides, Application Notes, Carrier boards schematics, Mechanical Drawings...) included in the uSD card
complimentary access to DAVE Embedded Systems' AXEL LITE RESERVED AREA
Periodic updates (documentation revisions, new Application Notes, new Design notes)
AXEL LITE Evaluation Kit - XELK Description & Version
Please visit DAVE Embedded Systems Developer's Wiki for further information.
Technical Support
Software Updates - LONG TERM SUPPORT:
DAVE Embedded Systems is committed to provide updated software along the life cycles of its products. This is possible maintaining products aligned with Silicon Vendor releases. Additionally to this the bug fixes are committed and published on GIT server. More information on how to have access to this are available HERE
Traceability
QR code labels
SOM HW and SW version total control
Certifications
View DAVE Embedded Systems certifications for ISO 13485, ISO 9001, REACH regulation, RoHS regulation, and more here.