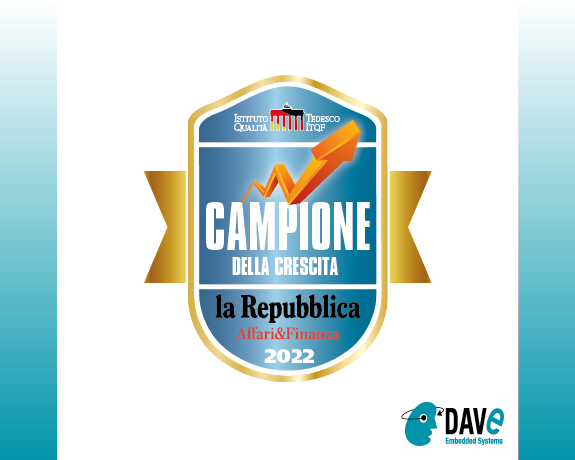 DAVE Embedded Systems has been included in the prestigious ranking of Campione della Crescita 2022 (Growth Championship prize 2022). The study, now in its 4th edition, is conducted annually by the German Institute ITQF and La Repubblica Affari & Finanza and selects the Italian companies with the greatest economic expansion.
Despite the difficult macroeconomic situation resulting from the pandemic crisis, being among the 2022 Growth Champions and therefore among the 600 Italian companies with the greatest increase in turnover in the last three years, is proof of a business success, the result of a vision that goes beyond contingencies of the single period.
This is also confirmed by the ownership of DAVE Embedded Systems in the person of CEO Stefano Dal Poz: «We are proud of this result but not surprised. The long and accurate work carried out in recent years has paid off even in adverse times, such as those of the pandemic. It is the confirmation of the good work done and the stimulus for further efforts in the right direction».
The companies that have received this important prize will be presented next autumn in a special on La Repubblica Affari & Finanza and on the La Repubblica website.