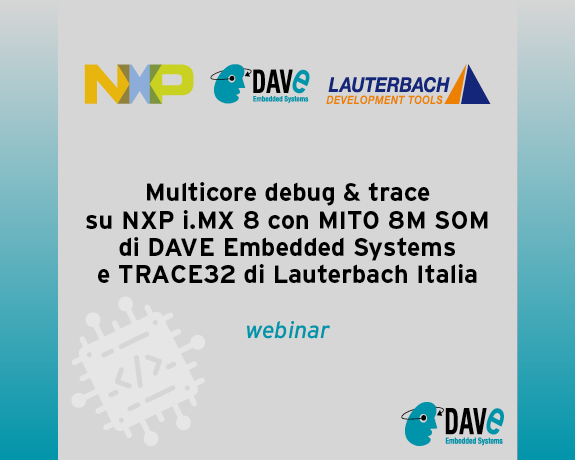 The Multicore debug & trace su NXP i.MX 8 within MITO 8M SOM di DAVE Embedded Systems and TRACE32 from Lauterbach Italia webinar on NXP i.MX 8 with MITO 8M SOM by DAVE Embedded Systems and TRACE32 by Lauterbach Italy is now available on our YouTube channel, held last May 05 by DAVE Embedded Systems in collaboration with the technological partner NXP and Lauterbach Italy.
In this webinar we have illustrated the most advanced multicore debugging and trace techniques on System On Chip NXP i.MX 8 using DAVE Embedded Systems' Lauterbach TRACE32 and MITO 8M SOM systems with its rich evaluation kit and Linux OS.
During the seminar, the SoCs of the NXP i.MX 8 family and the DAVE Embedded Systems solutions based on the same processor: MITO and ORCA were presented.
This webinar is in Italian language with English subtitles.
What we talked about:
Introduction Lauterbach & TRACE32 tools

NXP i.MX 8 series

DAVE Embedded Systems MITO & ORCA families based on NXP i.MX 8

Debug and trace functionality for Arm Power-ON!

Bare metal demo,

multicore debug & trace OS support,

Linux demo & energy profile Q&A
Speakers:
Manuele Papais, DAVE Embedded Systems

Massimo Incerti, NXP

Maurizio Menegotto and Marco Ferrario, Lauterbach